Brewer : Victory Brewing Company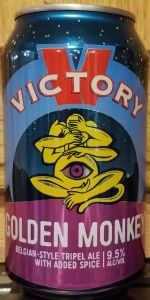 Location : Downington, PA.
Alcohol % :  9.5%
IBU : 25
Interesting Fact : Since its introduction in 1997 this craft beer has been Victory Brewing Company's number one selling brand
Survey Says : This medium bodied brew had a sweet, yeasty aroma. It had a cloudy golden color with a nice tan head. This Belgian-style tripel ale has some spice added which can be detected in its flavor. The taste is very smooth with both maltiness and some sweetness coming through. There are no bitter notes or negative aftertastes. It is very easy to drink and quite enjoyable. I would definitely try this one again and would recommend it to friends.
Rating :